Its been ages since I had time and motivation to get any painting done. I keep trying to get back into the mood, but I just haven't been able to. I suppose a promotion to a management position, mixed with a hectic and very stressful family situation has to take its toll somewhere, but I annoyed that it has been my hobby that has suffered - and therefor the blog has slowed as well.
But then it only takes a couple of things to get you back in the mood - for example a new release of figures. And that's whats happened. Campaign Game Miniatures in Spain have just released early French infantry, and they looked great. I had to get myself some, even though I have about 6 or 7 unpainted demi-brigades already.
An order was placed for a 32 man battalion, and while I was at it I thought I would add in another Austrian set, as I've never used CGMs infantry before. The Austrians were just as nice as the French turned out to be. I'm a little annoyed that I hadn't got these earlier, but I'll do another comparison with the Austrians very soon.
So what do you get in a 32 man battalion pack? CGM have packs available with varying amounts of figures, as well as the separate packs, so that you can choose exactly what you want. This pack was perfect for my needs, and its great to get all the figures you need without wasting money on spares.
As you can see, you get a variety of poses. For the bulk of the infantry there are 20 figures in four poses, with five of each pose. For the elite/Grenadier/light companies you get another four poses, two of each, plus the four figures in the command set. You get separate standards, one flag pole for early battalions, and an eagle for later.
The figures look really well cast, with sharp details, and no flash or visible mold lines - so these can go straight into the painting stage without lengthy a clean up first.
The important question when buying a new range is always, will these mix with what I have already? I think they will, especially with AB or Warmodelling (or Battlemodels as these are now called).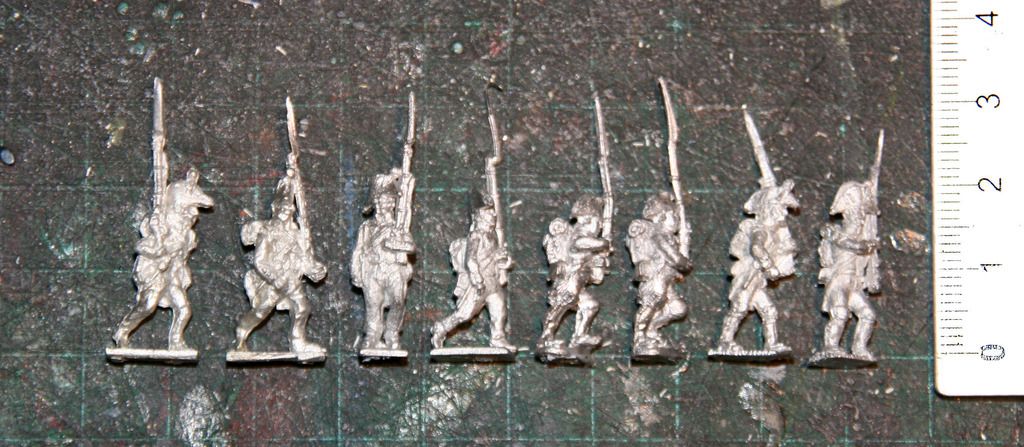 In this picture I've shown them alongside (from left to right) 2x Warmodelling, 2x AB, 2x Old Glory (Saxons as I don't have French), and finally 2x CGM. As you can see the size and proportions are very close to AB. The equipment looks the same, whereas I found that figures from Blue Moon for example, the muskets look totally different from other companies.
All in I would highly recommend these figures from CGM. They mix well with others, they look great, they are top quality, and the service from the company is excellent.
Marks out of ten, I'd say a high 9. And if they paint as well as the other figures I have from CGM that may go up to a full 10/10!