The wonderful painting of Hannibal Marchese Sommariva was on view in a temporary exhibition at the Galleria d'Arte Moderna Milano when we visited. I felt exceptionally lucky to visit the museum and find this piece of art - I have been visiting northern Italy on holiday for a few years now and always keep an eye out for Napoleonic era paintings, so to find a painting of an Austrian general from this period was very exciting.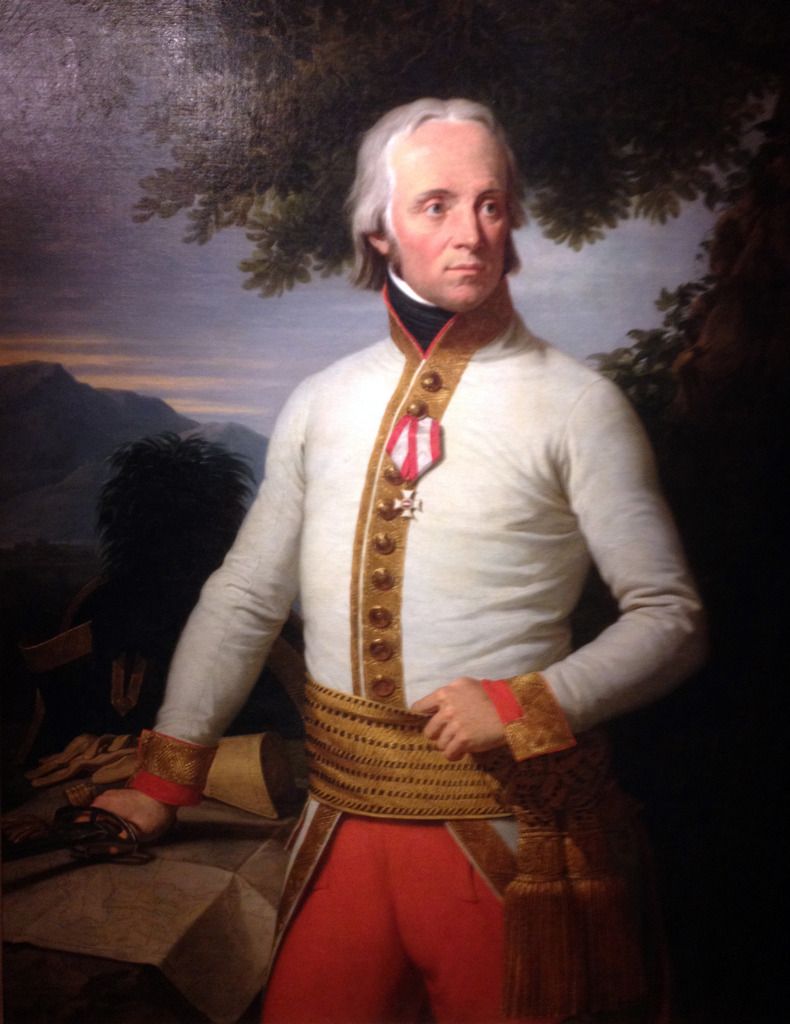 Biographical Essay (by Digby Smith)
Hannibal Marchese Sommariva was born on 10 March 1755 in Lodi, Lombardy and entered Austrian military service in 1771 as an Unterleutnant in the Dragoon Regiment "Bettoni" N°28. In 1773 he was promoted 2nd Rittmeister and he distinguished himself both in the War of the Bavarian Succession in 1778 and in the wars against the Turks in 1788/89. Promoted to 1st Rittmeister in 1778, Major in 1780 and to Oberstleutnant in 1793 when he was posted to the Netherlands. He was distinguished in the 1st battle of Fleurus on 16 June 1794, and in 1796 was promoted Oberst and made CO of his regiment. He was again distinguished in the clash at Amberg on 24 August of that year.
In the 1799 campaign Sommariva's regiment served in Italy where, on 26 March, they took 14 guns from the French at the clash of Legnano. Four days later, his regiment again contributed greatly to the French defeat at Perona. At the battle of Magnano on 5 April 1799, his regiment saved the day at one critical point and this led to the Austrian victory over French General Scherer. For this, Sommariva was awarded the Knight's Cross of the Military Maria Theresian Order. His conduct in the subsequent campaign led to his promotion to Generalmajor on 2 October of that year.
In 1800 GM Sommariva took over command of the Tuscan army and was appointed GOC the state. The French invasion brought his rule to an end and he was forced to flee his headquarters at midnight 14/15 October. He rejoined the Austrian army's main body on 6 January 1801 and was given command of a brigade in the rearguard. He fought minor actions at Montebello and other points.
In 1805 he again served in Italy as brigade commander in FML Vukassovich's division of General Bellegarde's right wing. In 1806 he was appointed Proprietor of Cuirassier Regiment N°5 and on 1 January 1807 Sommariva received his promotion to Feldmarschalleutnant and appointed Military Commander in Silesia (Troppau).
During the beginning of the campaign of 1809 Sommariva commanded a division in Orsini-Rosenberg's IV Corps, and on 19 April, at Dünzling, he charged and overthrew Pajol's brigade. He fought again at Eggmühl on 22 April, where he commanded the rearguard of the right wing. He was then transferred to FZM Kolowrat's III Corps and fought at Linz-Urfahr on 17 May, but did not serve in the later actions of this campaign or in 1812.
In 1813 he commanded a division in the Army of Innerösterreich. On 21 January 1817 he was promoted General der Kavallerie. He died on 10 July 1829 in Vienna.
There are many interesting details on this painting, from the buttons down to the sash, that would never need to be considered for a 15mm figure, but these details are of interest to the uniform enthusiast, so I made sure I got some close up images...