The other day there the kids had me put the buildings, stream, bridge and trees out on the table with some figures, and what was clear was that I really needed to sort out the road situation. Now at the moment I have limited funds and some spare time, and with a pile of heavy card sitting under my desk, I decided to make myself a test piece of road.
I cut a length of card, 60mm wide to allow a 40mm base width and 10mm each side for some grass, and plastered it lightly with grout. I scored the grout with a bit of scrap card and let it dry. Once it was dry I blobbed PVA glue along the edges and sprinkled sand and gravel. Once that was dry I painted the whole piece with the "chocolate" brown paint I picked up from a DIY store, let it dry, gave it a light wash of darker brown, then drybrushed with a 50/50 mix of the brown and a stone grey. I added a little static grass afterwards.
All in it took about ten minutes between doing some housework and it turned out not bad.
I had to be careful not to put too much onto the card so that it didn't warp. It still turns up a little but not too much.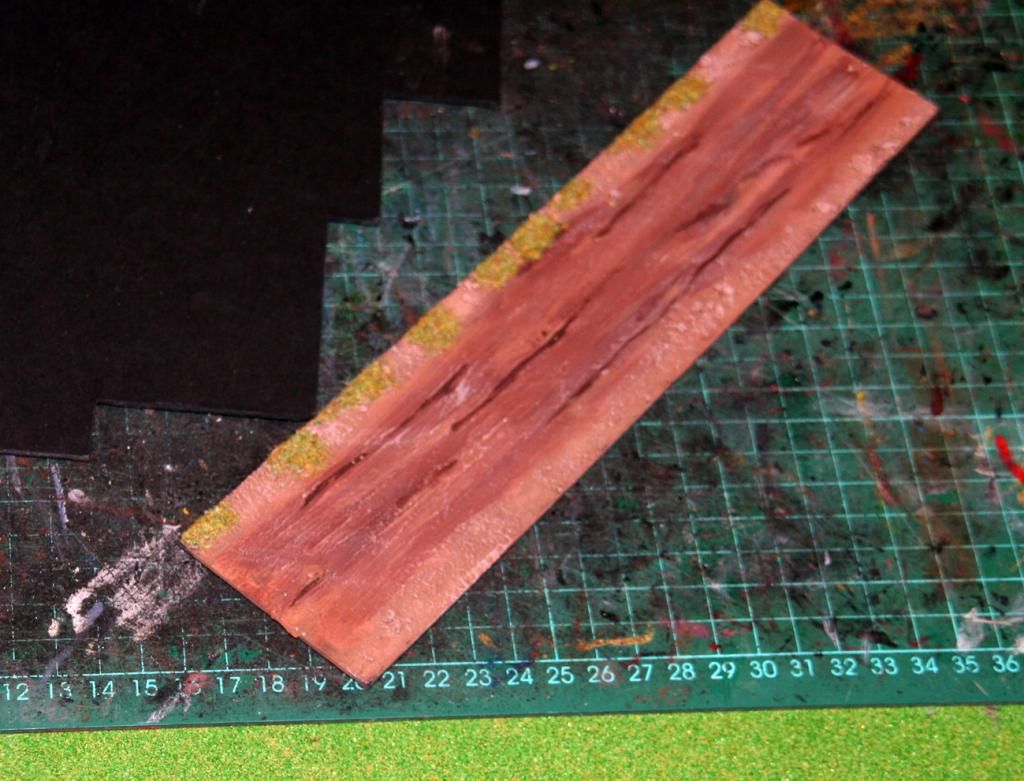 Once I was happy with this piece I did another couple of bits. A "T" junction and a curve. I still need to do a few more straight pieces, which I'll do shorter next time to avoid as much of a warp. These new bits haven't been drybrushed yet - just undercoated and washed, but that shows the painting process.
Then while taking these pictures I got carried away...
First I added a couple of buildings, then some trees, then the stream and bridge, and before I knew it I was putting Marengo on the table. It's a very squashed version though as I didn't have much space. In a proper game I'd have a this all a but more spread out, and I need a lot more of the road pieces.


After putting out the terrain it only made sense to add some figures.

So here we have a small French force of two demi-brigades and a cavalry regiment marching through an Italian town and being met by a couple of Austrian Battalions supported by artillery.



So, after putting these out I've decided a few things. I need a lot more roads and a huge lot more gaming space, my streams are way too blue, and worst of all - my French Heavy Cavalry with added plumes... the plumes are a little fragile. Where's my super glue?
:(