Gen de Div. Gardanne
44e Demi-brigade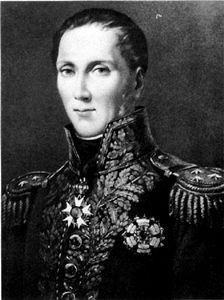 Gaspard-Amédée Gardanne had be
come governor of Alessandria in 1799, but in July of that year the city was besieged and Gardanne was forced to surrender, being taken as a prisoner of war. Before long he was exchanged for Austrian General Mack and released. Once back in Paris, Gardanne assisted Bonaparte
with the coup d'état.
In
early 1800 Gardanne was promoted to Général de Division. He joined the Army of the Reserve in April 1800 and then took command of a new division in June. Leading his division, he fought at Montebello.
On the 13th of June 1800, Gardanne was in command of the advanced guard and had positioned himself to lead his troops in to Alessandria with just the creek separating the opposing forces. Neither side was aware of each others strength, and the terrain favoured the advancing Austrians, but Gardanne distinguished himself nonetheless.
Gardanne later received a sabre of honor for his conduct at Marengo and he went on to serve with the Army of Italy until the summer of 1801 when he returned to France.
Gardanne was in command of Saxon troops in Silesia in 1807 when he fell ill and died.
Gardanne's Brigade
44e Demi-brigade de bataille 3x 30 Figures. Grade: Line
101e Demi-brigade de bataille 2x 30 Figures. Grade: Line
Skirmishers 12 Figures. Grade: Line
44e Demi-brigade, 1st Battalion
Regimental History
1642: Created
1645: Named Regiment Mazarin-Italien
1651: Renamed Regiment Anjou-Etranger
1660: Renamed Regiment de Orleans
1791: 44e Regiment de Infanterie
1793: 44e demi-brigade de bataille (formed from the following):


2e bataillon 22e Regiment de Infanterie
2e bataillon Volontaires de la Correze
5e bataillon Volontaires de Rhone-et-Loire

1796: 44e demi-brigade d'Infanterie de ligne (formed from the following):
92e demi-brigade de bataille (2e Bat 46e Regt d'Inf, 5e Bat Vol de la Haute-Saone and 2e Bat Vol d'Eure-et-Loir)
2e and Depot bataillons 44e Regiment de Infanterie
The 44e Demi-Brigade d'Infanterie de Ligne fought at Marengo with its battalions split between Gardanne's Brigade and Dampierre's Brigade according to the army list that I am working from (which appeared in issue 290 of Wargames Illustrated).
According to this list there were three battalions with Gardanne and a further one battalion with Dampierre, although I was of the impression that the regiment would only have three battalions. To remedy this I think that for one of the battalions I will not include a flag, unless I find it the meantime that there were more than three battalions in a demi-brigade.
The Chef-de-Brigade for the 44e at Marengo was either Francois-Joseph Offenstein or Adrien-Joseph Sauder, but I've found conflicting sources for who was in command at that time.
This unit has been built using Blue Moon's 1805 French in Greatcoats and command figures from AB. The Blue Moon command figures have an Eagle Bearer rather than a standard flag so rather than convert the figures I used the AB range. They mix quite well as you can see.
For comparison purposes here is the Blue Moon battalion alongside the previous battalion I've completed, which uses Warmodelling Miniatures. The Blue Moon are noticeably smaller and in more regimental poses, bur they should look fine on the same tabletop.



While painting these I had a look for some inspirational images on the internet and found these pictures.