Olivier Macoux Rivaud de la Raffiniere was born in February 1766 in Civray, Vienne and
commanded French infantry during the French Revolution and Napoleonic Wars.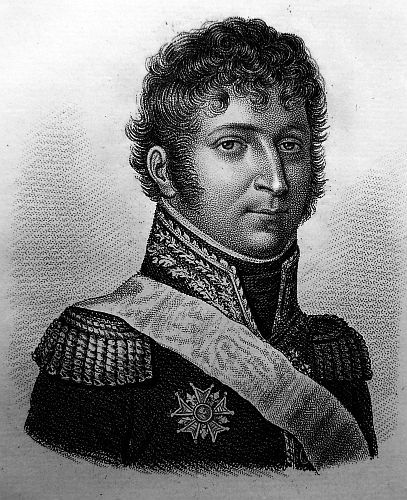 In 1794 Rivaud was with the Army of the Coast of Brest and then transferred to the Army of the Alps and in 1796 joined up with the Army of Italy. Rivaud fought at Roveredo, Bassano, and at Saint-Georges was wounded in the head. Despite his wound Rivaud continued to serve and later fought at Arcola and Rivoli. after which he became chief of staff to Victor's division.
In 1798, while still a Colonel, Rivaud was assigned to the Army of England, but was not one of those who travelled to Egypt. At the end of 1798 he gained his promotion to Général de Brigade.
In the spring of 1800 Rivaud joined the Army of the Reserve and
commanded the 43e and 101e Demi-Brigades as part of Chambarlhac's Division at Marengo, and performed a ferocious defence of the village as the Austrians advanced until being wounded by grapeshot.
Rivaud's Brigade
43e Demi-brigade de bataille 2x 30 Figures. Grade: Line
43e Demi-brigade de bataille 1x 30 Figures. Grade: 2nd Line
96e Demi-brigade de bataille
1x 30 Figures. Grade: Line
96e Demi-brigade de bataille 1x 30 Figures. Grade: 2nd Line
Skirmishers 12 Figures. Grade: 2nd Line
4pdr Foot Artillery 3 Guns Grade: Line
43e Demi-brigade, 1st Battalion
At last I have finished my first French battalion. It has taken quite a while. Its not that I'm a slow painter, its that I never get the time. But a weeks much needed holiday as helped me move this project forward, and the first lose-end to be tied up needed to be this half-painted battalion.
With the new job also comes a little more spare cash, so the next two battalions for the 43rd and the two for the 96th have been order and mostly received. I'm using a mix of Warmodelling and AB for the next few battalions, whereas this first completed unit is purely built with Warmodelling miniatures. I'm still waiting on the last few packs from Warmodelling to finish off the 96e DB but have received all my AB orders. These arrived two days after delivery - the service from Fighting 15s is just as good as the quality of their miniatures!
So here is the first battalion of the 43rd...